Location / Lleoliad
All of our on-camera prompting systems can be adapted for use in virtually any situation.
All these systems including the standard spare options can be packaged in no more than 5 bags / cases and in some cases require only 2, this extreme compactness and portability allows our system to be easily incorporated into crew vans where necessary and ideal for taking abroad. If sent abroad the systems come supplied with the correct cabling for international power supplies.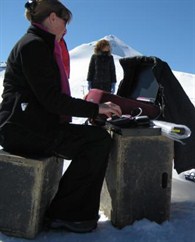 For areas where there is no mains power provided the systems can run on an independent 12 volt supply, allowing one battery to supply all the components of the system.
With suitable access to mains power for the charging of replacement batteries these systems can be run outside for an indefinite period of time.
This combined with the compact and portable nature of all of our systems allows them to be taken virtually anywhere.