Corporate/Corfforaethol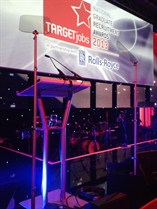 Whatever your presentation requirement Cuebox has the solution.
Our standard Corporate Presentation systems include one of our select technicians, 2 monitors, 2 stands each with one piece of glass, the necessary cabling laptop computer with prompting software and printer. These can be augmented with additional preview monitors, mechanical rise and fall glass stands and large projector screens for award ceremonies where the traditional lectern glasses are not suitable.
Cuebox Corporate Presentation Systems offer a range of high brightness and contrast LCD panels.
These are teamed with either simple manually set telescopic stands or with motorised rise and fall poles which can be pre-set to the speakers height and also disappear totally from view should the presentation require it.
Monitor placement can be adapted to allow speakers to move freely around the stage or to stay within a lectern environment.
We are pleased to offer you a system entirely tailored to your needs so please contact us for more information.